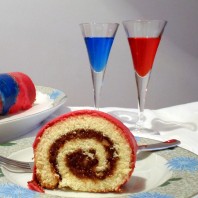 Antonietta
02/03/2013
This cake was prepared for Valentine's day but you can also prepare it  for other   joyful occasions.  It's a speedy  sweet recipe,  easy to prepare: it  bakes  in only 15 minutes.
Ingredients for Biscuit pastry:
3 egg yolks and 3 egg whites beaten stiff with 1 pinch of salt,
3 tablespoons of hot water,
140 grams of sugar plus 1 tablespoon
1 envelope of  vanilla powder,
60 grams flour,
60 grams of potato starch,
10 grams of baking powder,
baking paper, oven plate,  dish cloth.
Cover  the oven plate  with buttered and floured baking paper. Turn on the oven. Beat the egg yolks with 3 tablespoons of water, add sugar and vanilla and beat until it becomes frothy.  Add the egg whites beaten  stiff and stir gently from bottom to the top.
Sift and mix potato starch, flour and baking powder togheter well and  add  gradually to the eggs mixture, taking care to stir  from bottom to the top. Put on a plate lined with a baking paper, spread and level with a  knife. Baking at 180°  for 15 minutes. Prepare the dish cloth: sprinkle the surface with 1  tablespoon of sugar. When the pastry Biscuit is cooked, overturn  it  on the sugared dish cloth, remove the baking paper and   roll the dish  cloth and Biscuit together;  let them cool.
The filling:
20 grams of almonds,
20 grams of raisins,
40 grams of dark small pieces of chocolate,
80 grams of small pieces of dried figs,
2 tablespoons of jam,
a little bit of liqueur.
Chop the ingredients and add the liqueur until they become so soft  that  can be spreadable.
Roll out the dish cloth and spread the filling over all inside surface of  Bisquit;  roll the filled biscuit and place it on a metal rack  (oven rack  will be fine).
Covering:
100 grams of powder sugar,
2 or 3 tablespoons of water,
2 food colored pigments,
50 grams of dark chocolate.
Mix the powdered sugar with  2 or 3  tablespoons of water to form a dense icing.  Divide it  into 2 parts, color them  with  food color pigments  chosen and  cover  the Biscuit:  wait for the first  colored icing  is dry before proceeding with the other.
Melt the chocolate in a double boiler, put it in the sac à poche and draw the hearts on the baking  paper;  wait it solidifies.
Cut the ends  of the Biscuit, put it in a dish and place chocolate's hearts as shown  in the photo or as you want.
The ingredients are just for  8 generous servings.  If you want, here is the video-recipe.