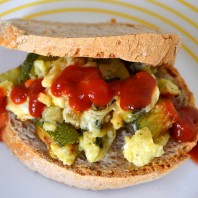 Antonietta
03/09/2013
This is a simple and ancient recipe, nevertheless imaginative and very economical. All variety of courgettes are suitable for this preparation, but for some giant marrows, must need to take off the seeds, before cooking. Courgettes aren't as full to bursting with vitamins as some other vegetables, but they contains vitamin C and fibre, which we all need in a diet. Don't forget that the flavor and soft texture, meaning they excellent vegetable for a children.
Ingredients (serve 4 persons):
600 grams courgettes,
200 grams white onions,
3 large eggs,
3 tablespoon of grated Parmigiano cheese,
a pinch of sea salt and pepper,
60 ml. olive oil.
Wash 600 grams of courgettes "zucchini" and abaut 200 grams of onions and cut them into a little pieces,

then fry them in a large frying pan, over a low head, in a good splash of olive oil. In the meantime, beat together well 3 eggs, a plentiful grated Parmigiano and a pinch of salt and pepper.

When the zucchini and onions seem cooked, add the eggs and mix continuously until they thicken.

Check the salt and then serve with toasts wholemeal bread. They can serve warm or cold, at your agreeable. Other recipe are avaiable here,