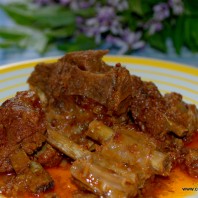 Antonietta
25/05/2014
This preparation is suitable for rustic or wild meat: boar, deer, reindeer, hare. For other meats, it's necessary to halve the cooking time.
Serves 4:
800 grams boar ,
2 carrots,
2 onions,
2 stalks of celery,
100 ml tomato puree,
chili,
salt,
150 ml white wine,
1 liter of water,
extra virgin olive oil.
Prepare 1 liter of vegetable broth with 1 carrot , 1 onion and 1 stalk of celery; boil at least 15 minutes, then salt lightly, lower the heat and keep warm.
Chop up the remaining carrot, onion and celery.
Cut the boar into fairly small pieces.
Fry well the pieces of meat with oil and chili; when the meat is nicely colored, remove from the pan, put aside and pour chopped carrot, onion and celery in the same sauce (oil and chili). Fry them for 6-7 minutes, stirring often.


When the mixture is well wilted , add the pieces of boar and mix well. When all will resume to fry, pour the white wine, stir well and leave to evaporate it, stirring often.


Let the wine evaporated, then pour the warm broth over the meat, to cover all the pieces  well enough. When it begins to boil, add the tomato sauce, mix well, salt lightly, and let boil again.  Cook covered, on a gentle heat, for 3 hours, stirring often.


If necessary, at last 30 minutes, remove the lid, and let the stew drying; if you want seasoning the pasta, then keep the sauce moistness.