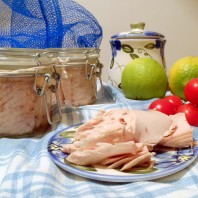 Antonietta
03/12/2012
Today we are going to prepare tuna au naturel, preserved in glass jars; it isn't too difficult to prepare but it takes a little time; try this recipe because it's very good and rich in omega 3 fatty acids and it's almost fat-free (0,08 for 4 ounces of tuna).
For this recipe you'll need:
35.26 ounces (1 kilo) of fresh tuna,
2.11 ounces ( 60 grams) of salt,
1.76 pints (1 liter) of water (add a little more, if needed),

few pepper grain,  if you  like,
1 large pot,
3 jars with a capacity of 7.04 ounces (200 grams) with sealing lid, washed and sterilized.
Instructions:
Cut off the head and tail of the fresh tuna, remove the entrails and wash thoroughly.
Cut it in pieces, and put it in the pot chosen for cooking.
Add the salt to the cold water and pour it into the pot: the tuna must be covered by 2.73 inches (7 cm) of water (if necessary, you can add a bit).
Put the pot on the stove, cover with a lid and let it simmer for 3 hours.
When the exact time has passed, strain the tuna and dry gently, remove the skin, fishbones, the dark and black parts and filaments. Strain the broth and keep it aside.

Place the clean and dry tuna pieces in jars, cover them with the filtered broth and close with the lids.

Fill a pot with water, place the jars into the pot, closed and wrapped in clean cloths. Let them boil for 20 minutes.  After this time, allow to cool and remove the jars from the water.

They can be preserved for over a year.
When you open the tuna jar, you must keep it in the fridge and consume it within a week.
Warning:
It's always recommended to sterilize the tools you use for making conserves, as well as the jars you use for the preservation of homemade preparations in order to avoid serious consequences like health problems.
These methods of preparations of the recipes are valid, reliable and tried personally, you must comply with hygiene rules, which are absolutely necessary in homemade preparations for the preservation of food products.
Make sure the jars are vacuum: if the lid yields and moves under the pressure of your finger, sterilize it again or consume the product immediately.