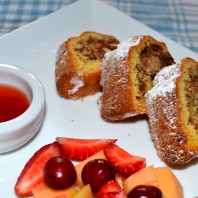 Antonietta
19/06/2013
I like  this ring cake, filled with good and sunny ingredients, it reminds me the Middle-Earth. I hope it will delight even those are passionate about Tolkien's  saga:  "The Lord Of The Rings", "The Hobbit" and the first epic tale " The Silmarillion".
Well, here are the ingredients we'll need.
Sponge cake:
100 g / 3 ½ oz flour plus extra for dusting,
2 eggs
1 tablespoon of baking powder,
80 g /2 ¾ oz sugar,
30 g /1oz unsalted butter, melted plus extra for greasing,
incing sugar, for dusting.
For the filling:
20 g 0,¾ pine-seeds,
20 g 0,¾ hazel-nuts,
20 g 0,¾ almonds,
20 g 0,¾ raisins,
20 g 0,¾ walnuts,
20 g 0,¾ brown sugar,
20 g 0,¾ dark chocolate broken into small pieces,
1 tablespoon of lemon zest,
1 tablespoon of strawberry jam (or other you like).
Baking ring mould  25cm / 10 inch
Roast and chop up the seeds (not too small);

Soak the raisins in warm water (or favorite liqueur) for 15 minutes, then dry and add at chopped seeds; add the lemon zests and brown sugar;  add broken chocolate and jam, mix all and set aside.

Grease inside and bottom of the baking  ring  mould (or springform tin) with butter, add 2 tablespoon of flour, shake it so a thin layer of flour sticks to the butter and then tip out the excess.
Whisk white eggs on medium food processor until form firm peaks (hold the bowl upside down, it's thick enough if doesn't fall).
Prehead the oven at 150°/ 300 F.
Beat the yolks and sugar togheter by hand or in the food processor, until light and creamy; add the butter, melted and stir togheter well.

Add whites beaten  stiff and stir gently from bottom to the top.

Stir and sieve flour and baking powder togheter well and  add  gradually to the mixture, taking care to stir  from bottom to the top.

Put the batter into the baking ring mould  then adding the filling as shown in the photo.
Baking for 30 minutes, on the shelf in the middle of the oven and don't open the oven door before this time!

Afther the right  time, you can check cooking by sticking the cocktail stick in the cake: if it comes out clean, it's cooked, then  turn it out and allow to cool completely before dust it with icing sugar.