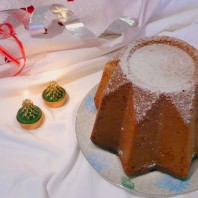 Antonietta
12/12/2012
Today we are going to prepare Pandoro cake, it isn't too difficult to prepare and  it doesn't takes much time; try this recipe, you'll like it and it'll bring  joyful Christmas!            Italian recipe.
Ingredients:
250 gramms potato starch,
250 gramms flour,
250 gramms butter,
250 gramms sugar,
8 eggs,
1 small liquor glass (Brandy or Cognac ),
1 lemon juice,
a pinch of salt,
1 envelope of sugared vanillin,
1 envelope of baking powder dose for 500 gramms of flour,
20 gramms of powdered sugar to sprinkle the Pandoro cake.
Put the butter into a bowl and work until soft.
Add the egg-yolks one by one with sugared vanillin, sugar, liquor and lemon-juice.
Sift and mix potato starch and flour togheter well and add gradually to the mixture.
Beat the egg-whites stiff with salt and  add it mixing gently,  from dawn to the top.
Add lastly the baking powder, taking care to to distribuite evenly.
Place the pastry into a buttered and floured <pandoro> mold and put into a pre-heated oven.
Baking for 1 hour in a gentle oven ( 160°) without opening the door and leave the cake 5 minutes longer with the oven off.
Turn <pandoro> upside down on a dish and sprinkle with powdered sugar.
Merry Christmas and Happy New Year.