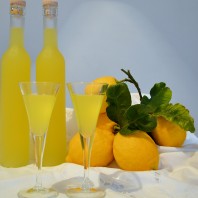 Antonietta
06/05/2018
The recipe of Limoncello has many variations, this one has small differences with a recipe already published but it's always worth trying out new paths of taste that readers suggest.
Ingredients for 2 liters of Limoncello:
1 kg of Amalfi lemons (or Organic lemons with thick peel),
1 liter of alcohol at 95 °,
large glass container with lid,
canvas for filtering,
potato peeler.
for syrup:
1 kg of sugar,
1 liter of water.
Wash and brush the Amalfi or Organic lemons, peel them with the potato peeler,
put the skins in a large airtight jar and cover all the peels with 95 ° alcohol then close the jar with the lid.
Put it in a dry and dark place. Avoid the fridge. Every day shake well for a few minutes.
After a week, prepare the syrup: boil water and sugar for 10 minutes then when it is cold pour this syrup into the jar of alcohol and lemon peels and stirring carefully. Leave all to macerate for 7 days then filter until it is clear and pour into the bottles.
You can consume it after a few weeks; it recommended to keep it in the freezer and serve it cold. Drink in moderation!